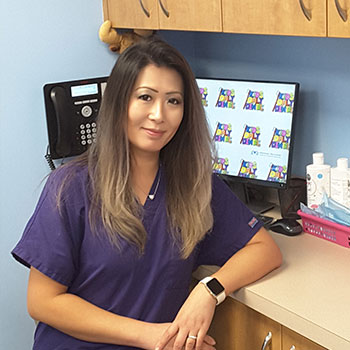 ---
Board Certified Pediatric Dentist
---
Thalia K. Sing received her dental degree from Tufts University School of Dental Medicine in Boston. Upon completing her dental education, she returned to New York to follow her true passion of working with children. Dr. Sing completed her pediatric dental residency at Lutheran Medical Center in New York, during which she also taught pediatric dentistry to pre-doctoral students at New York University School of Dentistry.
Dr. Sing is an active member of the American Academy of Pediatric Dentistry, Nassau Country Dental Society, New York State Dental Society, and American Dental Association.
She has a gentle nature and at times can be heard singing to the infants. She is a strong advocate of the American Academy of Pediatric Dentistry guidelines, which recommend an early establishment of of a child's dental home. Dr. Sing is also experienced in treating cases under nitrous oxide, as well as performing a number of cases under general anesthesia.
---
Professional Affiliations
---
American Academy of Pediatric Dentistry
American Dental Association
Dental Society of the State of New York
Nassau County Dental Society
---
Outside the Office
---
Reaching out to the community is also very important to Dr. Sing. As such, she dedicates her off time to visiting schools in the area to teach young children the importance of oral health and healthy eating. Apart from her love of dentistry, she enjoys spending quality time with her three young children: Tristan, Tyler James, and Teagan.
---