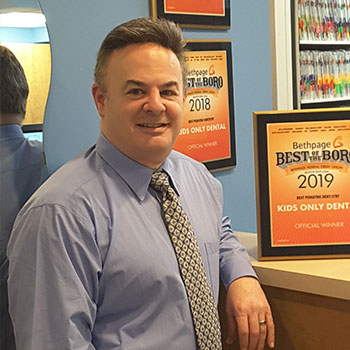 ---
Board Certified Pediatric Dentist
---
Dr. Simon Cheirif founded Kids Only Dental. Since those early days, the practice has grown tremendously.
Dr. Cheirif was born in Mexico City, where he attended the Autonomous University of Mexico Dental School, and graduated cum laude and the valedictorian of his class in 1981. He was awarded the Lincoln-Juarez scholarship, which enabled him to complete a two-year residency in pediatric dentistry at New York University Dental School, as well as his Doctorate of Dental Sciences.
Dr. Cheirif has been an associate clinical professor at New York University for more than ten years, an assistant clinical professor of surgery at New York University Medical Center, and a pediatric dental consultant at the Institute of Reconstructive Plastic Surgery at NYU Medical Center. He has also authored several scientific publications and lectured nationally and internationally on several subjects in pediatric dentistry.
---
Professional Associations
---
American Academy of Pediatric Dentistry, Diplomate
American Dental Association
American Academy of Pediatrics, associate member
American Society of Dentistry for Children
American Cleft Lip and Palate Association
Academy of Straight Wire and Functional Orthodontics
New York State Association of Pediatric Dentistry
Nassau County Dental Association
---
Outside the Office
---
Dr. Cheirif lives in Roslyn with his wife Bonnie and his rescue dog, Jeter. He is the proud father of three grown daughters: Samantha, Jessica and Jordana. He welcomed his first grandson in April 2021. He is an avid sports enthusiast and enjoys staying in top physical shape. Dr. Cheirif is fluent in English, Spanish, Hebrew, and Yiddish.
---